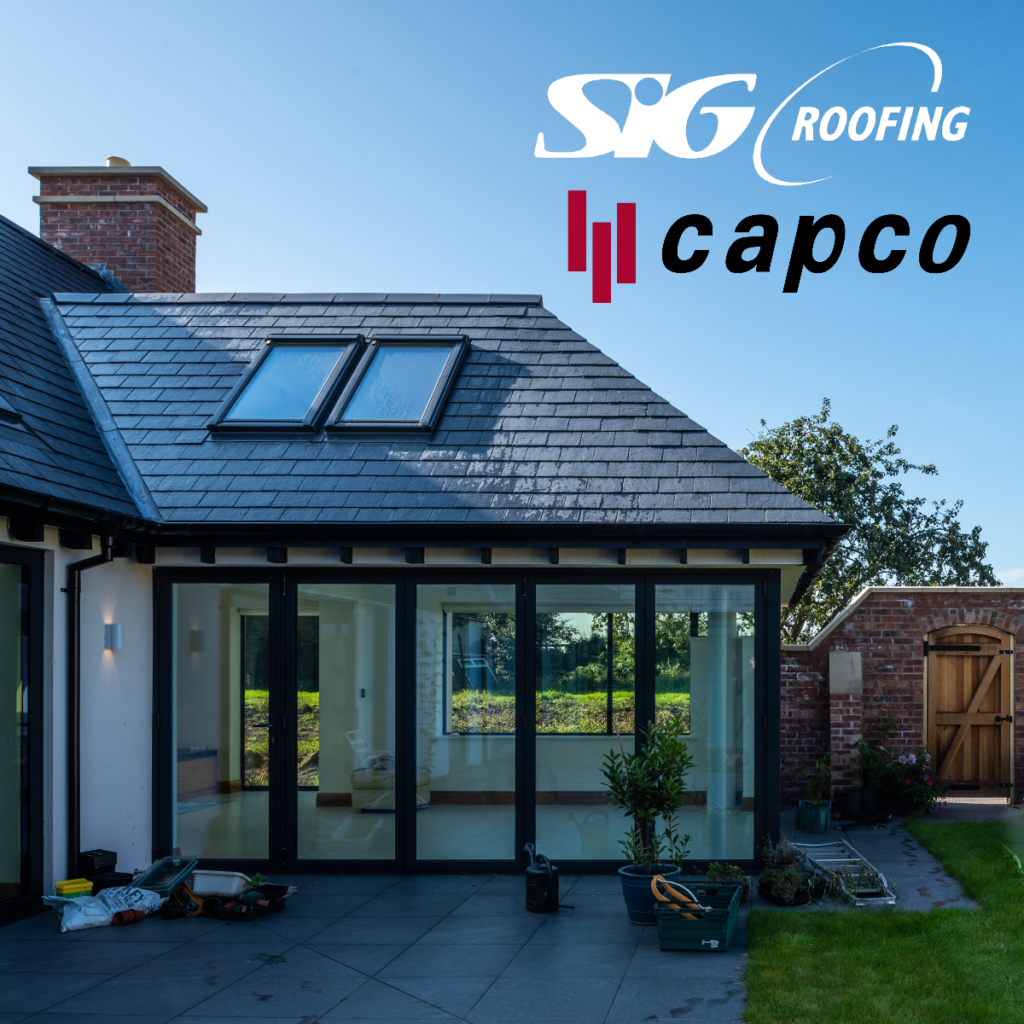 Capco Roofing was a respected name in the Irish roofing industry, known for its dedication to delivering top roofing solutions. Over the years, the company recognised the need to expand its offerings and reach a wider customer base. This realisation led to the evolution of Capco Roofing into SIG Roofing, a transformation that brought enhanced capabilities and an even broader range of roofing products to the market.
With a rich history spanning over 30 years, now SIG Roofing is the go-to distributor of natural slate, offering a diverse range sourced directly from quarries. We take pride in being part of the SIG Group, supporting major European markets, including the UK, Ireland, France, and Germany.
Unparalleled Range of Roofing Products
At SIG Roofing, our commitment to quality and diversity is unwavering. We offer a wide range of roofing products to cater to the unique needs of every project:
Natural Roof Slates
Explore a variety of premium natural slates, including CUPA Spanish slate, Brazilian Nova natural slates, Vermont Heather Welsh slates, and Cambrian slates. Cambrian slates are not just exceptional in performance but also designed to meet your aesthetic preferences while staying within budget.
Clay Tiles
Choose from BMI Redland clay roof tile, Rosemary clay tiles, Edillians and La Escandella Planum clay tiles to achieve a timeless and classic look for your roofing projects.
Fibre Cement Slates
Our Capco Fibre Cement slate range offers durable and cost-effective roofing solution, maintaining the highest standards of quality.
Low Pitch Solutions
SIG Roofing can offer tile solutions for pitches as low as 10° and slate tile options as low as 15°.
Solar Panel Integration
Discover innovative solutions like Planum solar panel roof tiles, that seamlessly integrate with your roofing, providing both energy efficiency and aesthetic appeal.
Flat Roofing
For flat roofing projects, we offer a comprehensive selection, including Knauf Urbanscape green roofs, Classic liquid roofing, and Classic Bond EPDM.
Roofing Windows
We also provide a range of VELUX flat roof windows and VELUX Low Pitch roof windows to enhance natural lighting and ventilation.
Roofing Accessories
Find everything you need to complete your roofing project, from clay ridges to verge trims and lead alternatives, SIG Roofing has a full range of roofing accessories in stock.
Rainwater Systems
SIG Roofing offers Alumasc aluminium gutter systems to the timeless Cast Iron Apex Heritage System and Lindab steel gutter systems.
Roofing Ventilation
SIG Roofing stocks a full range of KLOBER slate and tile vents for all requirements. Our branches also stock a range of eaves and ridge ventilation products and Dupont Tyvek Breather Membranes.
Stone Panels
CUPA Stone panels are composed of pieces of natural stone mounted on a cement base and reinforced with fibreglass mesh to avoid the risk of them becoming detached. The base measures barely 3 cm (1.18 in), allowing for the easy mounting of slabs and rustic or antiqued blocks. The panels are installed in a Z-shaped form to enhance the cosmetic appearance of the work.
Technical Support
SIG's Technical Building Solutions team can provide you with all the technical assistance you need to complete your roofing project in a cost-effective manner and compliance with all building regulations.
As part of the technical support we offer, we can produce estimations & take off's of roofing material quantities in compliance with building regulations from drawings provided, for all domestic and commercial projects. Please send your drawings to calc@sig.ie for a free estimate on all roofing components.
Commitment to Quality
At SIG Roofing, quality is the cornerstone of our business. We work closely with our producers to ensure that our slate and roofing products not only meet your performance criteria but also exceed your aesthetic expectations. Every slate is carefully selected to match your roofing requirements and geographical area because we understand that no two projects are alike.
Our Commitment to Self-Builders
Self-builders are a unique group of individuals with distinct requirements when it comes to constructing their dream homes. They often take a hands-on approach to their projects, making informed decisions about every aspect of the construction process, including the roofing materials.
SIG Ireland understands the needs and aspirations of self-builders, and we offer an extensive selection of roof slates to meet their specific requirements. Here's how we can assist self-builders on their roofing journey:
1. Diverse Slate Options: Whether you're envisioning a classic, rustic aesthetic or a sleek, modern look for your roofing, SIG Roofing has you covered. Our range of roof slates includes a variety of styles, colours, and sizes to suit your design preferences.
2. Durability and Quality: Roofing is an investment, and self-builders need roofing materials that will stand the test of time. Our slates are known for their durability and quality, ensuring that your roof will protect your home for generations to come with warranties on most products we sell.
3. Expert Guidance: Choosing the right roofing slate can be a daunting task. That's why SIG Technical Solutions offers expert guidance to self-builders, helping them make informed decisions that align with their project goals and budget.
4. Sustainability: We understand the importance of sustainability in today's construction industry. SIG Ireland provides eco-friendly roofing solutions, including slates made from responsibly sourced materials, to ensure that your self-build project is environmentally conscious.
5. Nationwide Support: SIG Ireland's presence spans across the country, with fully stocked warehouses and trade counters in Belfast, Omagh, Dublin, Limerick and Cork, ensuring that self-builders have easy access to our extensive range of roofing slates, no matter where their project is located.
Conclusion
With SIG Roofing, you're not just getting roofing products; you're partnering with a trusted industry leader. Our legacy as Capco Roofing and now SIG Roofing being the largest distributor of natural slate roofing speaks volumes about our commitment to excellence.
Whether you're a self-builder or a professional contractor, we are here to provide you with the highest quality roofing solutions and technical support. Your roofing project deserves the best, and that's exactly what SIG Roofing delivers.