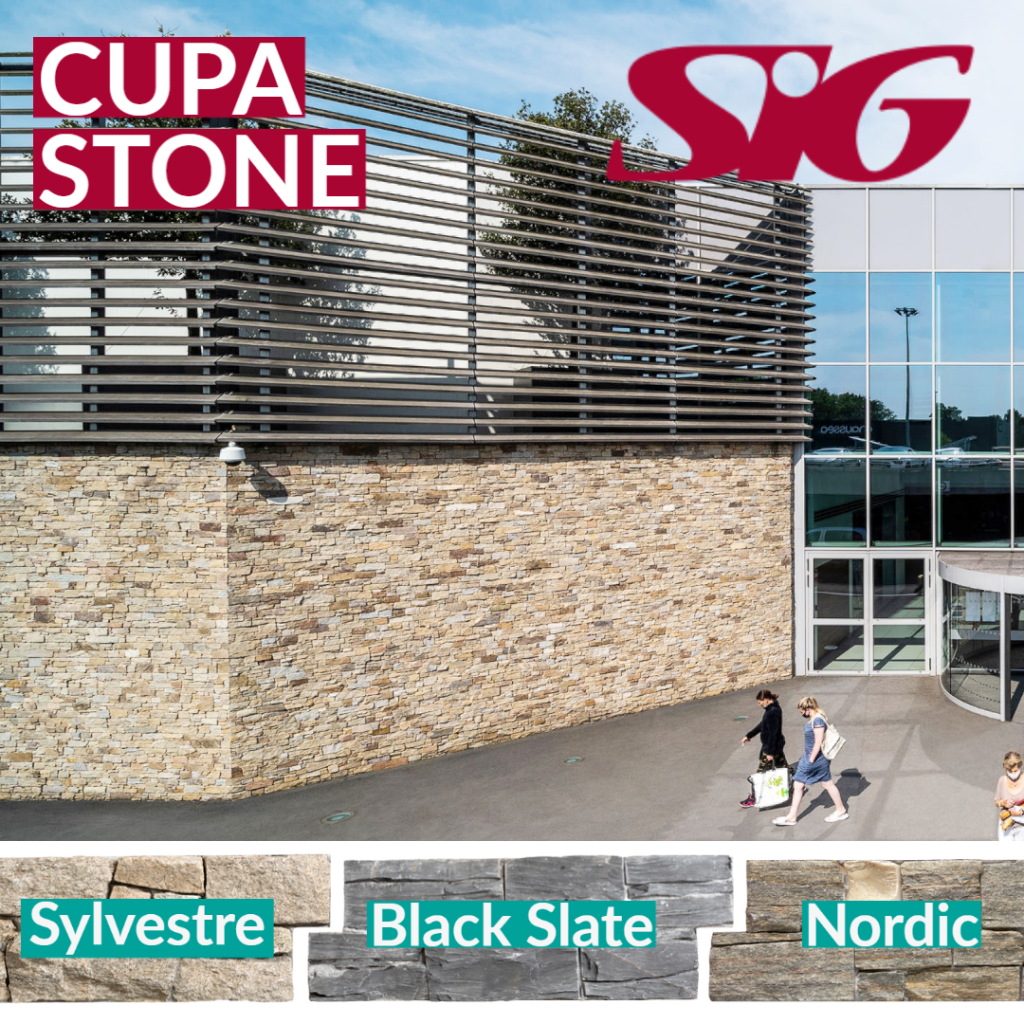 CUPA STONEPANEL™ is essentially an easy-to-apply stick-on cladding panel made from natural stone.
It is the only pre-mounted stone panel to pass Europe's most demanding and prestigious tests, and it has been awarded certificates in Spain, United Kingdom (BBA), France (CSTB), Romania (INCERC), Norway (SINTEF) and Germany (DIBT ).
Without a doubt, STONEPANEL™ is the safest and most efficient stone cladding solution. There is a wide range of natural stone products to choose from and you can use them for any exterior or interior project. 
The advantages of stone panelling vs stone walls
Stone panelling gives the look and feel of a stone wall but for half the weight, cost, labour, installation skills, and raw materials needed. 
It is usually the preferred choice today. Traditional stone is a lot heavier to deal with and you will need to hire a professional to install it.
With panelling, you have far more flexibility and homeowners can easily install it in their homes. There are so many benefits to using stone panelling over traditional stone.
Why is CUPA STONEPANEL™ the best for cladding?
CUPA STONEPANEL™ is the most efficient, aesthetic, and safest high-quality constructive stone panelling solution that can be used for any natural stone wall cladding.
The stone panels are 4 cm thick and made with natural stone and a fibreglass mesh backing. The backing is secured with a mortar base to avoid the risk of detachment.
STONEPANEL™ is faster and easier than traditional claddings. You can install 10-12 square meters within a single day, with virtually no waste, which provides high profitability. This beautifully designed natural stone wall is also built to last in terms of durability.
What are the benefits of CUPA STONEPANEL™?
The preassembled natural stone wall panels make installation more accessible to everyone

It's the fastest stone wall cladding to install on the market.

The thin stone cladding is a sustainable choice and keeps up with environmental demands as less stone cladding is used.

It is a safe choice with certificates meeting EU standards and it is one of the strongest and most secure on the market.

The natural cladding design enhances your facades with the beauty of natural stone and is a benchmark among installers and architects.

The stone wall cladding exterior is a great option for energy efficiency.

You can apply the materials with zero waste.

The panels are non-combustible and will restrict the spread of fire across the external surface of a building.
Why is STONEPANEL™ a good choice for homeowners?
One of the key benefits of STONEPANEL™ for self-builders is that the stone panels are easier to handle. In short, stone panels are lightweight far more so than traditional stone. That is because they are reinforced using lighter-weight aggregates. 
This allows these panels to be durable but also keeps them light enough to be easy to install without a great deal of structural strength necessary (though you still do need to ensure you meet the product's guideline standards.)
You can install it on just about any surface with ease, even on drywall. You can install it on wood, concrete, or metal, too. 
It is easy to cut to fit and does not require a lot of woodworking skills to make it happen. You need to know some basics in woodworking, of course.
Perhaps the most important of the advantages of STONEPANEL™ is its cost which does not compromise its beauty. This is a great aesthetic choice in nearly all cases because it is effectively a less bulky traditional stone. 
It has all the same features as natural stone, in texture, shape, and colour, but is 4 cm wide with a fibreglass mesh on the back for attachment.
For many people, it is simply the best option because it is available in a wide assortment of styles, without requiring a very high budget. These factors play an important role in the decision to use this product over others.
Application of CUPA STONEPANEL™ stone wall cladding solutions
Want to know how you attach the stone cladding to your wall? Below are some handy Installation Tips & Tricks for both interior and exterior stone wall cladding.
Measuring the area
Quantify the installation area of the walls to start your project. It is recommended to add a minimum of 5% for wastage.
Cleaning
The wall must be clean throughout and free from any coating, such as dust, loose plaster, paint, or dirt.
Levelling
Ensure all surface walls are structurally sound, clean, and level. The substrate needs to support a weight above 8-95kg/

m2.

To start the installation, mark out the first course, cut a batten, and ensure it is levelled and fixed to the wall.
Adhesive
Mix the adhesive. It is required to apply a minimum of 6-7mm to both the wall and the panel. The adhesive must be C2 for interior walls or C2 – S1/S2 for exterior walls. Ardex X77 Adhesive is available from any SIG branch.
First course
Apply horizontally with a notched trowel on both surfaces. Apply horizontally with a notched trowel on both surfaces. The mortar used must be C2-S1/S2 for exteriors. If the walls have corners, always begin fitting this area first.

Make sure the panel is well-tapped into place with a rubber mallet to avoid air pockets between the material and the wall. Tapping with your mallet throughout will ensure good bonding between the panel and your wall.

If cutting is required, always cut an S shape joint, as this will give a seamless finish. It is recommended to use an electric grinder or cutting bench. Clean off the residue from the back panel of any cuts before application.
The panel
You can use the massive corners alternating the short and long legs to stagger the joints. The use of long and short corners is also a good option.

When using long and short corners remember to alternate between rows to avoid seeing seams and to stagger the joints between the rows.

Repeat the process starting at the corners and working your way along the wall.
Windows
The corner pieces can be used for window and door reveals. Cut corners on-site during the fitting process. To make your installation easier, there are special pieces on demand to fit the required size to avoid cutting on-site. On heights of 2 meters or above the Sky system must be used
Fitting
With each panel, a piece of stainless-steel banding is looped through the anchor embedded in the material. The panel must be fixed to the support wall using stainless-steel screws and wall plugs suitable for the supporting wall. Follow the same procedure with the rest of the panels in the row and with the rest of the rows.
Last course
If the last row has to be cut to size, the stainless-steel banding must be looked through the lowest anchor. Repeat the main process, placing the stone panel in the desired position and pressing it against the adhesive-covered substrate.

All air gas between the stone panel and substrate should be eliminated.

It is important for designers, customers, contractors, and/or installers to ensure that the installation of the panels is in accordance with national building regulations and stone wall Certificates.

Check out this installation video on 

how to easily apply CUPA STONEPANEL™

 to walls or see CUPA's useful installation guide in their 

catalogue

.
What materials are needed to Install CUPA STONEPANEL™ wall cladding?
STONEPANEL™ is a pre-assembled panel that imitates traditional masonry walls and does not require specialized labour for its installation or many materials. All you need are the products below:
Adhesive

Preassembled stone wall cladding panels

Screws for fixings
It is recommended to set up the panels staggered to hide the vertical joints.
What types of CUPA STONEPANEL™ are available in Ireland?
CUPA Stone has a wide range of panels available which you can request to order through SIG. All panels come in a standard size of 60 x 20 and a thickness of 4 cm. SIG stocks three of its most popular panels: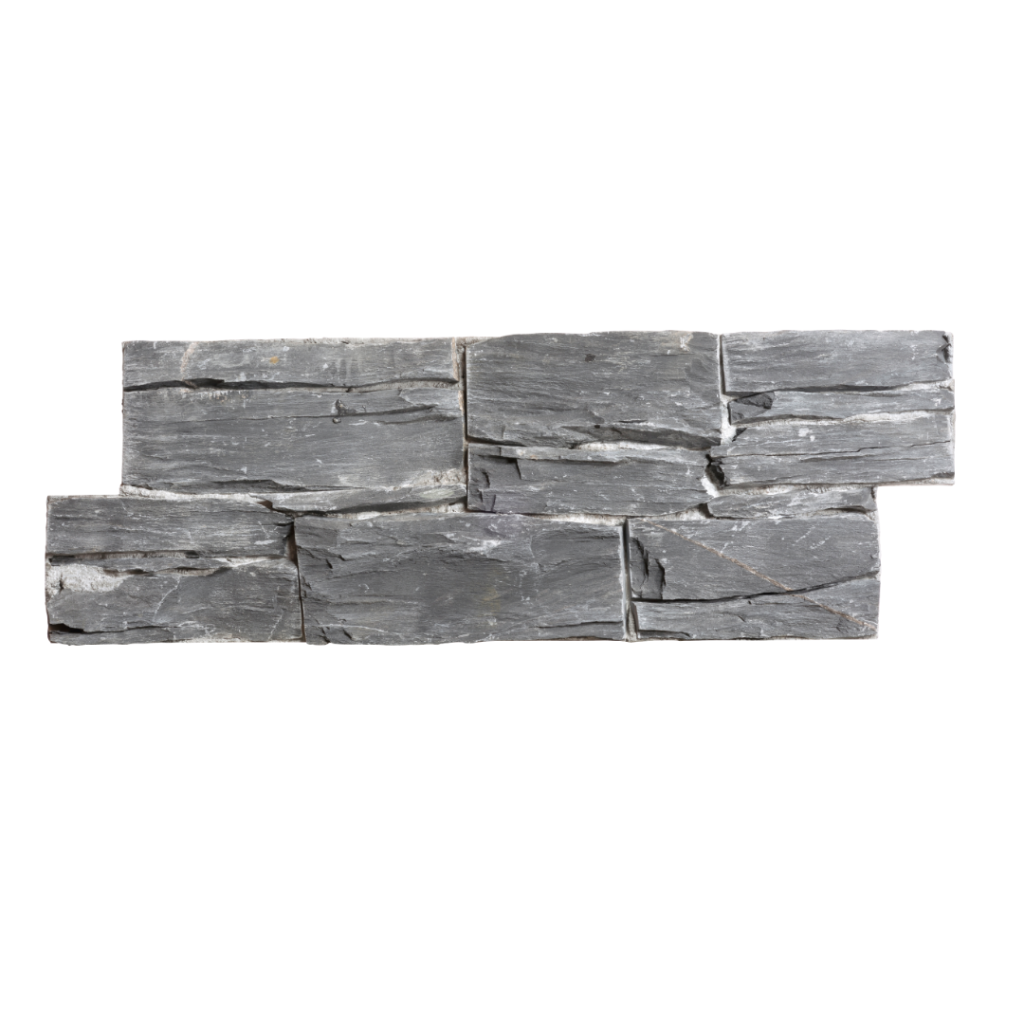 STONEPANEL™ Black Slate
This is similar to an ash-grey stone cladding and is a tone of charcoal natural stone. The chunky slate pieces turn the BLACK SLATE into one of the most versatile models.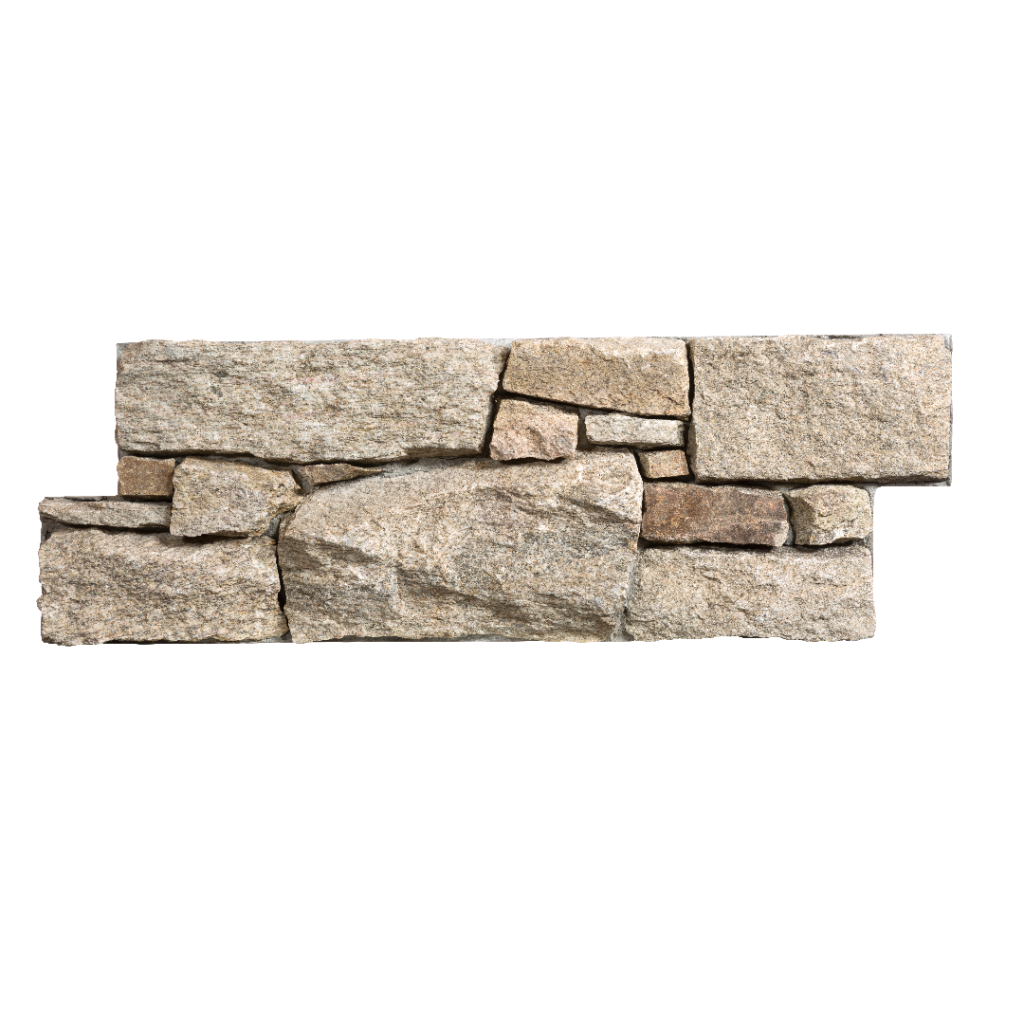 STONEPANEL™ SYLVESTRE
This natural stone panel is made of a light, uniform gneiss with a rustic stone cladding finish and is one of many architects' favourites.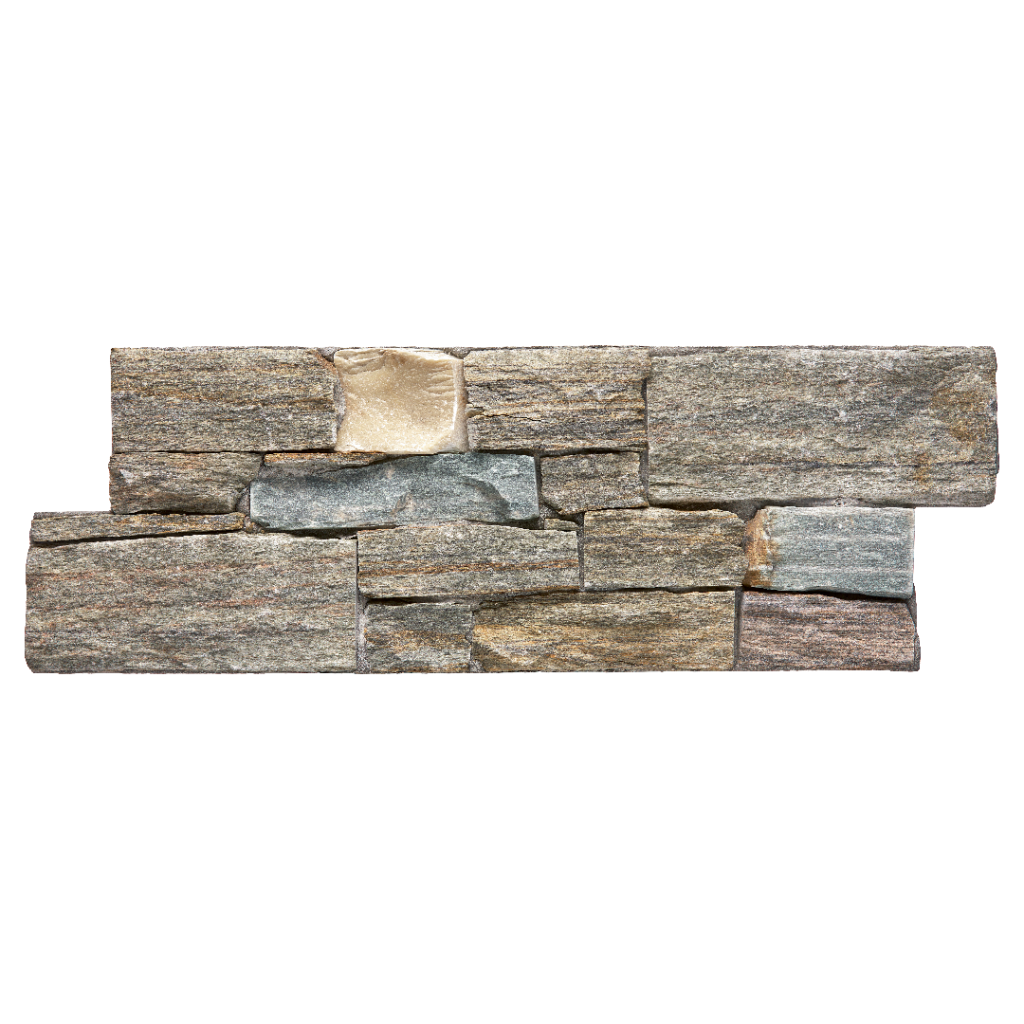 STONEPANEL™ NORIC
This is a natural grey quartzite with blue tones that creates a fresh and chic ambience.
Looking for stone wall cladding in Ireland?
This beautiful stone wall is available in all SIG branches in Ireland and can be used on facades, and inside and outside walls. Our branches are located in Dublin, Limerick, Cork, Belfast, and Omagh. Find a branch near you and call us today. It gives the full effect of constructed stone for interior walls and exterior facades. It is made from natural stone and is lighter and easier to install. For more information contact us today.