In recent years, solar energy has become increasingly popular as a renewable energy source. As homeowners and businesses seek ways to harness the power of the sun, innovative solutions have emerged, including solar roof tiles. In this article, we will delve into Planum solar roof tiles, their effectiveness, and their advantages in transforming roofs into sustainable power generators.
What is a Planum Solar Roof Tile?
Planum solar tile refers to a type of solar roof tile designed to seamlessly integrate solar panels into roofing systems. Unlike traditional solar panels mounted on top of existing roofing materials, Planum tiles are designed to replace conventional roof tiles, providing an aesthetically pleasing and efficient solution.
How does it work?
Planum solar tiles work by utilizing photovoltaic technology to convert sunlight into electricity. These tiles are designed to replace conventional roof tiles, seamlessly integrating solar panels into the roof tile's surface
By incorporating photovoltaic technology into the roof tiles themselves, Planum solar roof tiles provide an aesthetically pleasing and efficient solution for harnessing solar energy. They allow buildings to generate their own electricity while maintaining the functionality and appearance of a conventional roof surface, creating a smooth, even appearance that blends seamlessly with the surrounding tiles. Below are 7 reasons why you should choose Planum Solar Roof Tile:
1. VOLT Planum Solar Tile.
Volt is the developed world's most advanced solar tile. Employing MWT technology and an industry-leading, material-efficient design resulting in lower thermal mass, enabling cooler operation and enhanced efficiency. VOLT reaches an incredible 18.8% efficiency. With its durable, weather-resistant design, aluminium frame and toughened glass. Volt is built to withstand the harshest environments, making it a perfect option for Irish roofs.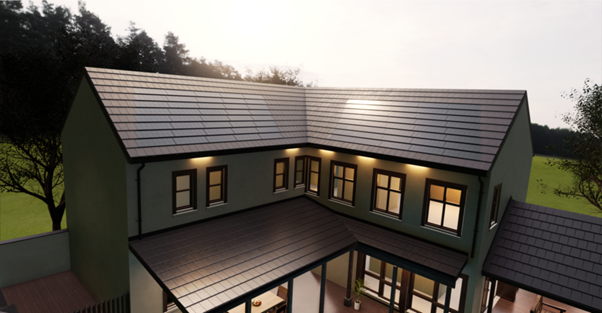 2. High Efficiency
MWT technology increases cell conversion efficiency, delivering higher power output in lower irradiance conditions.
3. Mechanically Strong
Volt's unique low-profile design naturally resists snow-loading and wind-loading conditions.
4. Low Maintenance
Volt's direct integration into the home and roof eliminates the build-up of debris and the need for cable maintenance compared to conventional modules.
5. Higher Reliability
The busbar and tapping ribbon-free design allows the tile system to have a sleeker, seamless integration into the roof while increasing reliability.
6. Lead-Free
Volt's eco-friendly design is entirely lead-free.
7. 30-Year Performance Warranty & 15-Year Product Warranty
Peace of mind for decades: Planum solar tiles come with an impressive 30-year performance warranty, ensuring their efficiency and energy generation, backed by a solid 15-year product warranty for added assurance. 
FAQs
How many Planum tiles per m²?
The number of Planum tiles required per square meter (m²) depends on various factors, including the dimensions of the tiles and the roof's layout. Generally, the number of tiles needed for the area of a solar installation will be determined by the roof's surface area and the solar system's desired capacity.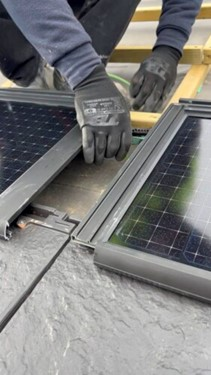 How effective are solar roof tiles?
Solar roof tiles are a highly effective solution for generating electricity from the sun. They convert sunlight into electrical energy using photovoltaic technology, allowing homeowners and businesses to reduce their reliance on traditional power sources. While the tiles' individual performance may vary based on factors such as location and shading, solar roof tiles have proven to be a reliable and efficient method of harnessing solar energy.
What is the best roof tile for solar panels?
Several types of roof tiles are compatible with solar panels, including clay tiles, concrete tiles, and slate tiles. The best tile for solar panels depends on various factors, including the roof's structure, the climate, and the desired aesthetic appearance. Planum solar roof tiles allow you to integrate solar panels into your roof, making them a more aesthetically pleasing option.
How much power do solar roof tiles produce?
The power output of solar roof tiles depends on various factors, such as the tile's efficiency, the amount of sunlight received, and the size of the installation. On average, solar roof tiles manufactured now can produce between 50 and 200 watts of power per tile, depending on the specific model and sunlight conditions.
Is there such a thing as solar roof tiles?
Yes, solar roof tiles are a reality. They offer an innovative solution that combines the functional aspects of a roof with the benefits of solar energy generation. Planum solar glass roof tiles provide a visually appealing and integrated approach to incorporating renewable energy into residential and commercial buildings.
Planum solar roof tiles are a remarkable advancement in solar energy technology, allowing property owners to transform their roofs into sustainable power generators. By replacing conventional roof tiles with solar tiles, these innovative solutions provide a seamless and efficient method of harnessing the sun's energy. As renewable energy continues to gain traction, planum solar roof tiles offer a promising avenue for a greener future. Planum solar roof tile products are available and in stock throughout SIG branches in Ireland and Northern Ireland. For more information contact SIG Roofing today.