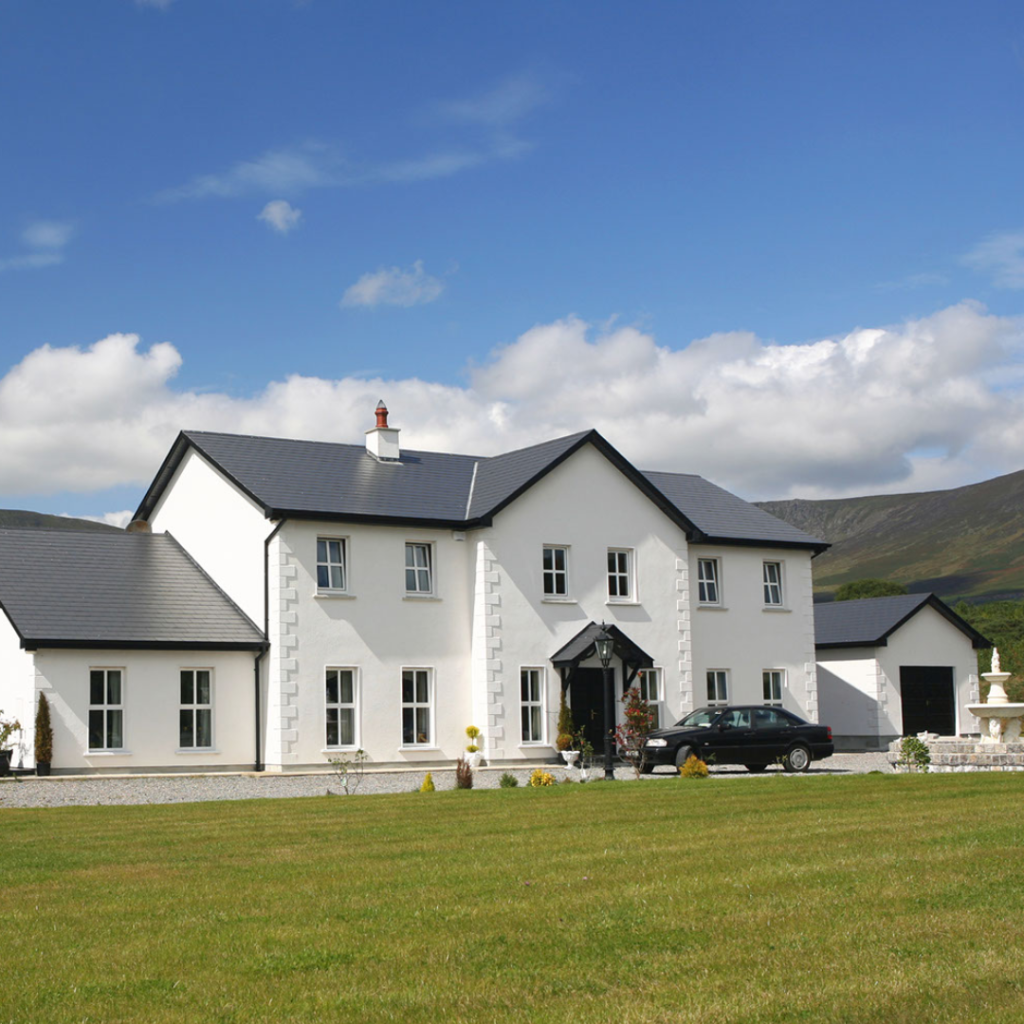 They say buying a home is one of the most exciting moments of your life and for good reason. It's a savvy financial investment, and you can be more creative than in a rental property, truly making the space your own. And with the number of, more homeowners than ever are investing in new builds as their forever homes.
New builds come with savvy tweaks to improve their energy efficiency and save homeowners money in the long term, one of which is insulation.
Recent studies have indicated, insulating your home can save €550 on average per year, a huge reduction in your annual energy bill.
New builds must be insulated according to building regulations, but equipping a home with the best type of insulation is a must for property developers. By maximising building performance in your next development project, you can command a higher market value while also doing your part for the planet.
With that in mind, let's dive into why your new build needs insulation and the best insulation options for new builds.
What is Insulation?
Insulation comes in many forms, whether that's rigid foam insulation or spray foam insulation, but whichever material you use, the objective is the same. Insulation helps with the thermal management of your home, keeping it warmer in the winter, and cooler in the summer.
Building insulation is generally used in houses or commercial buildings to make the space more energy efficient, but insulation materials can also create barriers to electricity, shock, sound, or radiation.
The Benefits of Insulation
Improved energy efficiency
Insulation improves your home's thermal performance. Your home will stay cooler in the summer and warmer in the winter, which reduces the need to put on the heating or use air conditioning.
Having a more energy-efficient home can save hundreds – even thousands – of euros per year, making it a simple, effective way to reduce costs.
More eco-friendly
With the climate crisis well underway and heating our homes contributing a whopping, we can all do our bit to reduce our effect on the environment. Insulation makes your home more energy efficient, which in turn means you need to use fewer fossil fuels to heat your house.
If we all invested in just a little more insulation, it would increase thermal efficiency and decrease the overall carbon emissions of the country. Not to mention that with consumers becoming more eco-friendly, installing insulation is an excellent selling point to attract buyers.
Increase your property's market value
The priority when developing a home is getting the best value for it. Installing not just the bare minimum insulation, but high-quality insulation that will transform the property's thermal efficiency is a must for selling the property at as high a price as possible.
Make a more liveable home
Two key components that can make a property difficult to live in are excessive noise and dampness. Living with noisy neighbours (or even your teenager's trombone practice) can impact your mental health, as can condensation problems developing into a mould.
Certain types of insulation minimise noise disruption, which is ideal for maintaining a more peaceful home environment. Insulation can also reduce dampness, which is a necessity for keeping a property's inhabitants healthy. Mineral wool is the best type of insulation for controlling a property's moisture levels.

The Best Types of Insulation for New Builds
Foil insulation
Foil insulation, or multi-foil insulation, is one of the most effective methods of reducing heat loss and condensation in houses of any size, style, and age. Typically made from aluminium, this product works by reflecting radiant heat back into your living space, retaining warmth and saving on heating costs.
Its reflective layers create an airtight seal that prevents the entry of outside air, improving thermal efficiency, reducing your energy bills, and keeping you warm during damp, cold winters.
As with all materials, search for the highest-quality options for a guaranteed return on investment. Foil producers like YBS boast a range of cost-effective solutions, perfect for home construction or renovation projects. If fire safety is your concern, look for a foil product with strong fire resistance for added peace of mind.
Where is foil insulation used?
Foil insulation is such a versatile solution that it can be used in virtually any part of your home where you want to increase thermal efficiency. As lofts are one of the key culprits for heat loss, attic foil insulation is a popular option, as is foil roof insulation, floor insulation, and wall insulation.
Foil insulation is particularly handy for new homes with a conservatory – an overlooked source of much of your home's heat loss. Foil is lightweight, easy to install, and suitable for unusually shaped spaces, so consider this product for your conservatory to create a well-insulated home.
Glass mineral wool insulation
Glass mineral wool is a popular type of mineral wool insulation material. Suitable for both thermal and acoustic insulation projects, glass mineral wool can be applied as either rolls or slabs, depending on the area and the installation method.
Popular glass mineral wool products, like those by Knauf, are made with up to 80% recycled materials, saving the planet as well as your wallet.
One of the key benefits of working with this material is that the fibre density can be altered to create products for different purposes. If keeping noise to a minimum is your goal, glass mineral wool insulation can be used as acoustic insulation. If reducing your energy costs is your main priority, this material provides a solution.
Where is glass mineral wool used?
This popular insulation material is commonly used as external wall insulation. The random fibre structure of the material traps air pockets, which not only dampens the effect of loud noise, but also provides thermal insulation. The best part? It's one of the most fire-resistant insulation materials, so if safety's a concern, it should be your go-to choice.
Glass mineral wool can also be used as full-fill masonry cavity wall insulation or installed within a timber wall frame.
Rock mineral wool
Rock mineral wool is another mineral wool insulation option for a new house. These materials tend to be made from volcanic rock, typically basalt or dolomite. Rock mineral wool is commonly used in the construction industry – and for a good reason.
This solution is excellent for blocking sound from entering your home and heat from leaving it. Rockwool is produced by heating minerals and other natural materials in a furnace at a temperature of around 1600C, before blowing a stream of air through it.
The result is a mass of intertwined fine fibres, which are then bound by starch. As with its glass counterpart, Knauf is one of the best-known manufacturers of this wool material. You tend to find this product in slab form, making it easy to install and adjust for size.
Where is rock mineral wool insulation used?
While Rockwool can be used to insulate almost any type of structure, it's commonly found beneath pitched roofs, on interior walls, and as wooden floor insulation. Since rock wool doubles up as a soundproofing material, it's beneficial to put it in places where you experience excessive noise, such as a wall with a noisy neighbour on the other side.
Rock mineral wool boasts another benefit not found with many other insulation materials – fire prevention. Since the material has a melting temperature of over 1000C, it's suited to areas at risk of possible fires.
Other types of insulation
Foam insulation board or rigid foam
Insulation foam boards are available in a range of sizes and thicknesses, as well as being a sturdy solution for new and old houses alike. They work well in internal and external walls, roofs, attics, and as foundation insulation in construction projects.
Foam boards reduce heat conduction and they're strong, durable, water-resistant, and relatively easy to install.
They're suitable for construction projects, but less so on existing walls, where you'd face the costly job of tearing the wall down and building it from scratch with the insulation. Because of the way these boards are installed, this insulation method is less flexible or easy to remove than others.
Loose-fill and blown-in insulation
Another of the most popular insulation methods currently in use is loose-fill or blown-in insulation. Usually formed of loose materials such as fibreglass, cellulose insulation, or mineral wool in the form of smaller granules, this type of insulation is instantly recognisable for its fluffy appearance. Plus, it's eco-friendly because it's commonly made using recycled waste material.
You can use this material in walls, crawl spaces, ceilings, attics, nooks, and crannies, without having to overhaul the house's structure. This flexibility makes blown-in insulation perfect for spaces that regular insulation can't reach, including around pipes. If you end up with excess material, collect it with a vacuum and re-use it as needed.
One of the downsides of this type of insulation is that it requires special equipment to be blown into the building's cavities, so it's not suitable for a DIY solution. If not sealed properly by a professional, this type of insulation can quickly become susceptible to mould, so consider the risk of dampness before going ahead with a loose-fill solution.
FAQs
Is spray foam insulation suitable for new homes?
Spray foam is a popular choice of loft insulation, and it can be applied in difficult-to-reach areas, which gives it an advantage over other insulation materials. The foam expands to fill all nooks and crannies, making it a go-to for attic insulation in older houses with out-of-reach corners.
However, spray foam is also costly, unsightly, and potentially reduces ventilation in the roof space, which can lead to humidity and dampness and put roof timbers at risk of decay.
While spray foam is a popular choice, consider other materials for external wall insulation and cavity insulation for a new build.
How do I insulate an area that's difficult to access?
Insulating out-of-reach parts of your home is a common challenge, but it's easy to solve with the help of an expert. For best results, hire a professional insulation installer to blow insulation such as treated cellulose, mineral wool fibre, or polyurethane foam into inaccessible corners.
Mineral wool and foil products can also be fitted especially to work well in unusually sized or shaped spaces, so discuss options with your supplier.
What's the difference between rock and glass mineral wool?
While both types of insulation have similarities – as well as being cost-effective and maximising energy efficiency – there are a few differences between the two. Glass wool is lighter and less dense than the rock alternative and is almost more flexible.
If you're installing insulation in a particularly hard-to-reach space, glass wool's flexibility might make it the better option. Glass mineral wool is also made up mostly of recycled materials, so if your eco-credentials are important to you, opt for glass wool. However, if acoustic soundproofing is your priority, rock mineral wool simply can't be beaten.
Final Thoughts
Whichever type of insulation you choose for your new build project, source it from a valuable supplier with expertise.
With our specialist team here at SIG, your new build insulation product is (literally!) in good hands. We combine expertly sourced insulation materials with a knowledgeable, practical approach to put guarantee your property's thermal efficiency.
From multi-foil insulation to multiple mineral wool options, we have a selection of insulation materials ideal for a new build property, all made by manufacturers with reputations for excellence.
What's more, our technical team offers expert advice on building performance assessments and architectural plan interpretations. If you wanted knowledge from the best in the business to maximise your project's success, you'll find it as SIG.
You could invest in poor-quality insulation that has to be replaced within years and risk dampness and mould, mammoth energy costs, and a loss on your investment. Alternatively, you could purchase products and seek advice from the pros at SIG for a stress-free construction project and a house with enviable thermal efficiency. The choice is yours.
If you're embarking on an insulation project and want materials you can trust, get in touch today.