Knauf Insulation
Knauf Insulation is one of the world's largest manufacturers of insulation products and solutions.
Knauf Insulation Glass Mineral Wool products offer a wide range of benefits and can be used in an equally wide range of applications. As well as the usual benefits from our traditional mineral wool, Knauf Insulation with Ecose® Technology offers a softer feel, no added formaldehyde, no artificial dyes and low product emissions.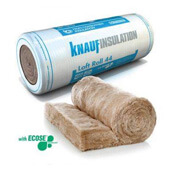 Glass Mineral Wool Insulation
Our high performance Glass Mineral Wool insulation solutions from Knauf Insulation contain up to 80% high quality recycled materials, to which is added sand, limestone and soda ash before being melted in a furnace. The molten glass is spun to form millions of fine strands of wool. We use our proprietary and revolutionary bio-based binder, ECOSE® Technology, to bind the mineral wool together to form a mat of material which is then cured in order to form the final product.
Range: DriTherm®, FrameTherm®, OmniFit®, Party Wall, Acoustic, FactoryClad, Loft Rolls, Rafter Rolls.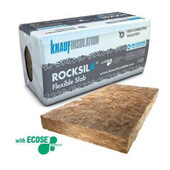 Rock Mineral Wool
Our Rock Mineral Wool insulation solutions are mainly made from volcanic rock, typically basalt and/or dolomite. An increasing proportion is now recycled material from slag, a waste product from blast furnaces. The raw materials are melted and then spun into fine strands of wool. A binder is used to bind the wool together to form a mat of insulation, which is then cut into slabs or wired mattresses. Most of our Rock Mineral Wool products use our ECOSE® Technology.
Range: Rocksilk®, Acoustic, EWI, Fabrication, Flexible, RainScreen, Soffit
Technical Building Solutions
Impartial product advice
Our specialist team will provide advice on energy saving construction products and guidance on building regulation compliance.
Ready to Talk?
Speak to a member of our team!