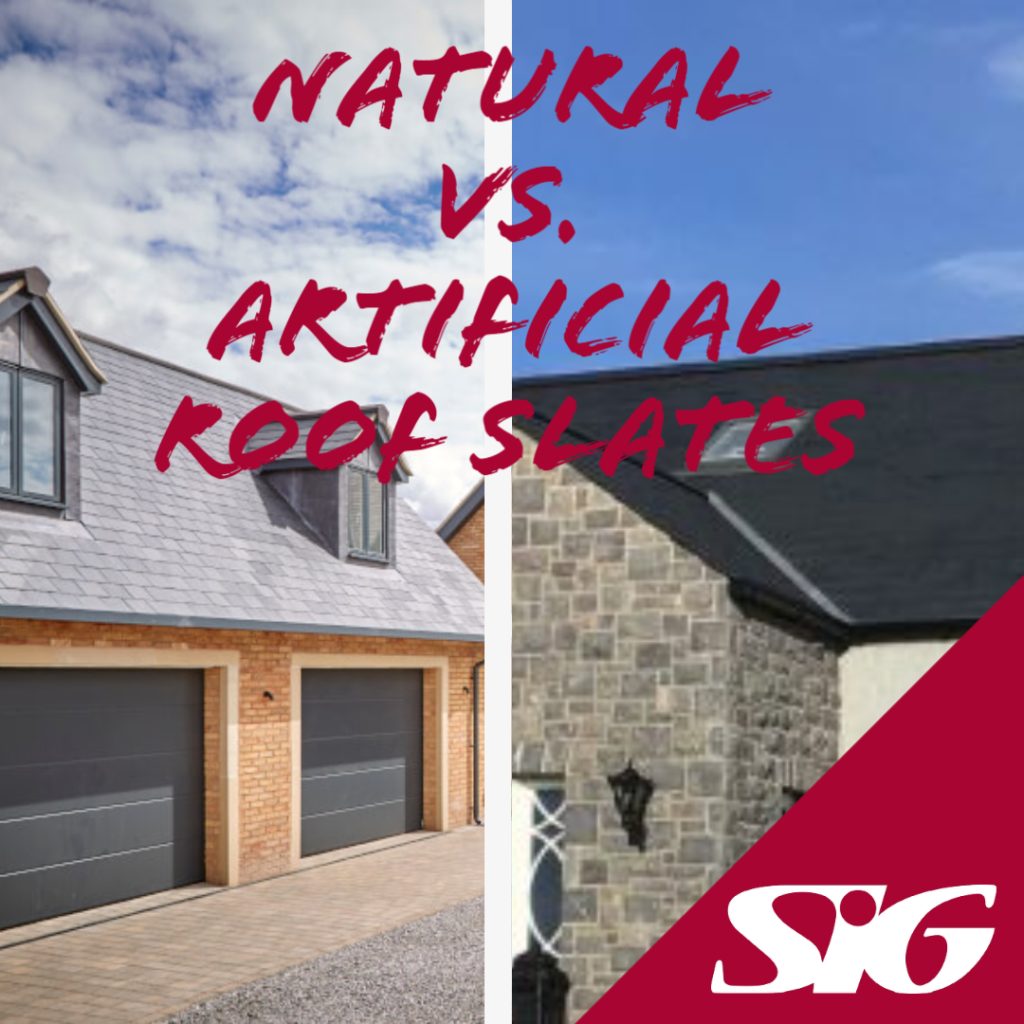 Your roof is more important for your house than you think. As well as keeping your home insulated and protected from weather, the look of your roof has a significant impact on the general aesthetics of your home. Not to mention if you choose the wrong material for your roof, it can have costly consequences.
When you're in the market for a new roof, making a decision can be seriously challenging with the sheer abundance of options on the market. Slates are one of the most popular roofing materials, but knowing whether to opt for artificial roof slates or natural roof slates is tricky.
To help you make an informed decision, we've done a deep dive into these two materials to discover the advantages and disadvantages of each, and which is best for your home. Let's take a look.
Long story short
Natural slate roofs are one of the most durable types of roofing material on the market, lasting centuries in some instances. They provide an attractive, authentic finish to any home.

Artificial slate roofs mimic the look of their natural counterpart, but have a much shorter lifespan. They are, however, significantly cheaper.

Although artificial slate is cheaper at the outset, you'll spend more money in the decades to follow on replacing the roof every 15-25 years.

Whichever type of roof you opt for, work with trusted professionals who have a reputation for excellence. Failing to procure high-quality materials in the first instance can have knock-on financial effects in the long run.
What are natural roof slates?
Slate is a type of metamorphic rock, sourced from sedimentary shale rock. The material consists of clay and volcanic ash, and it's one of the most durable and environmentally friendly roof materials on the market.
Once you've finished using natural slates on your roof (or if there are any left over from the building process), they can be reused as a driveway material or to create a garden path.
Because of the process involved in transforming the natural rock into roofing tiles, natural slate is one of the most expensive products in the roofing industry.
What are artificial roof slates?
Artificial roof slates are made to mimic the look of natural slates, but they are created using cheaper materials. The are two types of artificial roof slate: fibre cement and composite slate.
Fibre cement slates are manufactured using cement mixed with a formulation of blended synthetic and cellulose fibres. These slates then go through a production process and are pigmented and compressed. Fibre cement slates look identical and weigh significantly less than natural slates.
There's usually a range of textured finishes and colours available in synthetic slate roofing to suit homeowners' personal preferences. Composite roofing slates are made of a mixture of typical roofing materials. These can include fibreglass, recycled slate, asphalt, and cement. As with fibre cement slates, composite slates can be manufactured to meet particular aesthetic preferences.
Fibre cement vs. natural roof slate
With everything from cost to longevity to consider, finding the roofing material that best suits your use case can be challenging. Start by establishing a budget and your preferred look for the roof.
Would you prefer a more rugged, authentic look, or a uniform look? Are you willing to spend slightly more at the outset to avoid maintenance and replacement costs down the line? Consider your needs before selecting your slate roof material of choice.
Advantages of fibre cement

If you want the attractive, characterful appeal of a slate roof but can't afford the hefty price tag associated with it, opt for synthetic slate roofing in the form of fibre cement.
Because natural slates require precision processes to cut the rock into roof slates, they cost significantly more than other roofing materials. Synthetic slate roofs are a cheaper alternative, which look just as neat.
Reduce the burden on your property
Out of the traditional roofing solutions, artificial slate is the lightest material. Synthetic slate shingles are made from cement, fibres, water, and air. The air adds lightness to the material, and the robustness of fibre cement allows the slates to be made thinner than other materials, like clay.
Fibre cement slates are lightweight, making them easier to handle. If your roof-bearing structure is fragile, you'll benefit from having a more lightweight slate in place. If you're eco-conscious, fibre cement slates can be a planet-friendly option. Thanks to the lightness and thinness of the material, they've got a lower transport footprint.
While the authenticity and unique charm of natural slate roofs is appealing to many, some prefer their roof to have a more uniform appearance. Authentic slate comes in slightly different shades and shapes, so it's hard to get a roof that looks the same all over. Synthetic slates, on the other hand, are all identical.
Not only does this give your roof a neater, more minimalist look, but it also makes the tiles easier for your roofing contractors to install.
Disadvantages of fibre cement
Once you've got your new roof, you don't expect to have to think about it again for decades. Roofs are supposed to be one of the features of a home with the most longevity – not something to rip out every five years.
That's one of the disadvantages of synthetic slate shingles compared to their natural equivalent. Fibre cement only has a lifespan of 25 years, so after only a couple of decades of installing a brand-new roof, you'll have to replace it once again. And if you're buying a house with a fibre cement roof that hasn't been changed in the last decade or so, the chances are you'll be breaking the bank to replace it just a few years into your new home.
This short lifespan means that although fibre cement costs less at the outset, it's much less cost-effective in the long term.
After just 20 years, the colour can weather, and the product sometimes begins to curl, resulting in an unattractive finish that can damage the look of your house.
One of natural slate's most significant appeals is its authentic charm. Fibre cement slates are less rustic than authentic slate roofing, so if you're renovating an old house or attempting to make a new build feel more homely, they won't have the same aesthetic appeal as the natural alternative.
Advantages of natural slate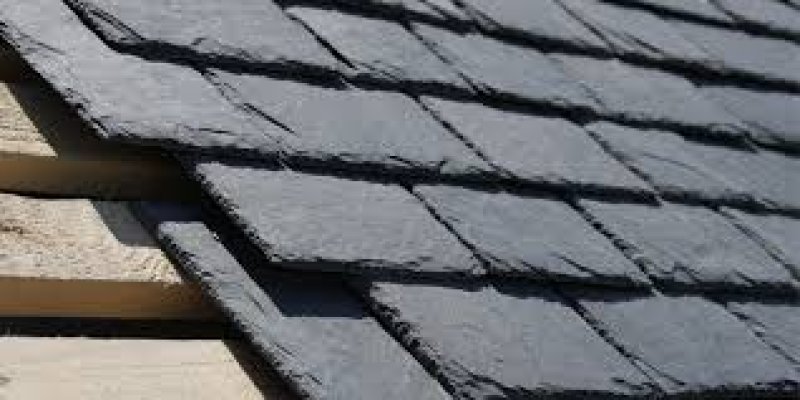 A natural slate roof saves you money. Rather than having to re-roof every 10-30 years, a natural slate roof is durable and can withstand all types of weather conditions without being damaged or flying off the top of your home. Some natural slates have survived hundreds of years – a testament to the longevity of this hardy material.
As concerns about the planet grow, we can all make decisions in our homes that ease the burden on the environment. Natural slate is a reusable and recyclable material. Many slate roofs in the natural slate industry are reclaimed and used elsewhere – even on driveways and garden pathways – so you can rest assured your slates won't end up in landfill.
Slate also requires very little processing, so fewer carbon emissions are produced during its manufacturing process.
The chances of your house catching fire are fortunately slim, but if the worst were to happen, you'd want your house to be as fireproof as possible. Natural stone slates are completely fire-resistant, so if something in your loft were to catch fire, you wouldn't risk the roof being destroyed.
Let's face it, having a roof that's practical is nice, but its appearance is an important factor in the overall look of your house. Having a real slate roof gives your property an authentic charm that you rarely find in other roofing materials, so if you're renovating a property or building a new home from scratch, natural slate should be the go-to material for a characterful look.
Natural slate has been used for roofs for approximately 700 years, so if you're renovating a traditional property, or simply want to add character to a new build, natural slate should be your material of choice.
The beauty of a real slate roof is that every natural slate tile used is completely unique, which not only adds charm to the property but also means yours is entirely different from any other.
Disadvantages of natural slate
Natural slate is one of the most expensive roof materials – but the price directly reflects the quality. While you may be reluctant to invest a lot of money at the outset, opting for natural slate will actually save you money in the long run because you won't have to replace it as often. In this way, natural slate is actually more cost-effective than fibre cement.
Foot traffic can damage slate tiles
It's not often that you have somebody walking on your roof, but if you're hiring a professional to work on top of your house, there's a chance they could damage your natural slate tiles. While slate is durable, it doesn't hold up especially well against foot traffic, so be aware that somebody walking on your roof could mean a slate or two will need replacing.
There are various types of natural slate available, with some options being more affordable for people wanting the authentic charm of natural slate without the hefty price tag. Two of the most popular varieties are CUPA Spanish Slate and Brazilian Nova.
CUPA is one of the best-known brands of slate on the market – and for good reason. This natural slate is robust and environmentally friendly, and requires zero maintenance. If you're the type of person who wants to fit a roof and not have to think about it for another century, this is the product for you.
CUPA's quality comes with a high price tag, so if you still want all the benefits of natural slate at a lower cost, try Brazilian Nova. Nova slates offer excellent value for money, as well as being as attractive and high-quality as many other slate materials on the market.
FAQs
How often do natural slate roofs need to be replaced?
Natural slate roofing needs replacing very rarely. This type of roof is built to last a while – many have been known to last for centuries. The main reason for having to replace slate roofs is if they're damaged or weren't installed properly. A well-installed natural slate roof will not need replacing for at least 80 years – and very little maintenance is required in the meantime.
Is it safe to walk on a slate roof?
It's not safe to walk on a slate roof. Walking on slate tiles can crack the slates, leaving them irreparably damaged and in need of replacement. Avoid food traffic on your slate roof at all costs, or if you do need a contractor to walk on them, check that the company has adequate insurance in case of damage to the roof.
Do natural slate roofs add value to your home?
Whenever we invest in our home, we want to be sure that not only will it benefit us while we live there, but it also may bump up that all-important property price when we come to move out. Rest assured, a slate roof will increase the value of your home.
If you're working for a development company building homes, you want to know if you can put that price tag as high as it can reasonably go. Adding a natural slate roof is a surefire way to give the home a more polished look and amp up the price.
Think about it this way: if you're a buyer stuck between two houses, which are you more likely to choose? The one that needs the roof replacing in the next two years, or the house that has a roof likely to last another 50?
And there's more. Not only does slate roof's durability attract buyers and allow you to boost the price of your home, but buyers are also attracted to the fire resistance and beneficial insulation. Not to mention that slate roofs add character to a home, making the overall look more attractive.
How are slates fixed to the roof of the house?
Slates are usually fixed to the roof of the house with copper or stainless steel nails and optional point hooks that attach the slate to the roof deck. Fixing is covered by SR82 2017 – slate of practise for slating and tiling.
Do natural slate roofs and artificial slate roofs look the same?
Although artificial slate is made to mimic the look of natural slate, there are subtle differences. For a start, every natural slate tile is completely unique, so a natural slate roof will result in more of a rustic finish, with some slates being slightly different shades and shapes.
A fibre cement roof, on the other hand, has a more uniform look, since the slates are identical and uniform. There's no better or worse roof appearance – it all comes down to personal preference.
Are artificial slate roofs cheaper than natural slate roofs?
A fibre cement roof will cost you less at the outset, but it's worth factoring in costs in the long run. While installing a natural slate roof involves an upfront expense, the ongoing maintenance costs are extremely low because this type of roofing material is essentially maintenance-free.
Plus, natural slate roofs can last decades, whereas an artificial slate roof will need replacing every 25 years or so, meaning more costs in the long run.
Is a slate roof difficult to maintain?
Luckily for homeowners, slate roofs are not difficult to maintain. Natural slate is waterproof and non-combustible, making it ideal for protecting your home not only in wet and windy weather, but in the event of a fire, too.
This type of material also tends to be unaffected by mould or fungus – perfect for the health of your house.
The bottom line
If you're looking for a roof that promises longevity, cost-effectiveness, and an attractive, characterful aesthetic for your home, choose natural slate. Natural slate tiles are environmentally-friendly, durable, and can add genuine value to your house with their aesthetic significance and promise of long-term value for money.
If you're working on a strict budget, however, fibre cement tiles provide an affordable alternative. While their lifespan is shorter than that of the natural slate alternative, they're easy to maintain and provide a neat, attractive finish to your home.
Whatever your roofing needs and whether you work with artificial slate, natural slate, or even clay tiles, the most important part of any process is using high-quality materials and working with genuine industry experts.
You could opt for a cheap roofing material and installation by an inexperienced team, only to have to pay for an entirely new roof in five years' time. Or, you could work with an expert company that gets it right the first time, and save yourself time and money in the long run.
With SIG, you'll not only get access to the finest-quality roofing materials but also technical expertise you simply can't find elsewhere. Your new build or renovation project will be in safe hands with our knowledgeable and professional team. Simply put, we work hard so you don't have to.
Interested in levelling up your house project with the help of our services? Get in touch today for more information.